HeyDrummer
All great musicians have one thing in common: perfect timing.
HeyDrummer is a smartphone app that helps you improve your timing by practicing and jamming with tempo adjustable drum tracks instead of a boring metronome.
It's is super easy to use. You don't need to buy expensive drum software or learn how to program drum tracks. Just open the app, choose a drum track and start your practice session or simply jam along.
Key features
Speed up or slow down all drum tracks as you like without sound degradation
Adjust the length of the drum tracks to what you want to play
Keep an overview with a visual metronome and a visualization of the song structure including the currently active bar
Get counted in before the drum track starts
Filter drum tracks by genre, feel, tempo, and time signature
Mark your favorite drum tracks to easily find them again
Small app size (including all drum tracks)
Wide variety of genres: Blues, Rock, Funk, Country, Jazz, Soul, Reggae, Disco, Hip Hop, Afro-Brazilian, Afro-Caribbean, Afro-Cuban
Studio quality drum sound
Includes an audio unit extension (AUv3) for use in apps like GarageBand, AUM, Audiobus, and other audio unit host apps (iOS only)
Dark mode support
HeyDrummer in action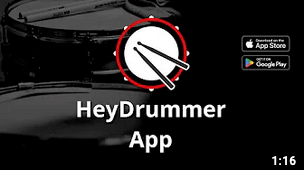 Downloads